You can order customized Associated Bank checks right here. After the required information is forwarded to us through our secure online forms, you may choose from a variety of personalized designs to customize your checks with. A check with a custom design can add a personalized touch to each and every check you hand out, and may even make you more memorable to the people you deal with.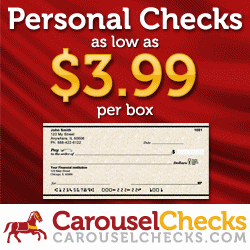 Our website continues to offer great custom checkbook services to National Association Bank account holders, and others. You can choose a
personalized check design using your photo
, or choose from a range of
pre-made designs
. Many of these designs have a wide variety of subjects, from
cute furry animals
to your favorite
sports
teams. Each of them may represent you in a unique and fun way.
 Tip: Are you looking to save some money? Check out our "Coupons & Specials"
Associated Bank was formally established in 1970. With over 4,900 colleagues and a community-based work ethic, National Association Bank strives to maintain a rich tradition of financial services and customer service. With a flexible range of financial services, your bank checks may represent the vivid history this bank has provided for years and years.
Ready to order Associated Bank check designs? Start by browsing our "Bank Check Designs" page to find the perfect personalized Associated Bank checks that bring a smile to your face every time you write a check.
Value Priced Personal Checks