Order your business check designs or personal check designs for your SunTrust Bank account through GetBankChecks. Not only will you save money, but we promptly print and ship your new check design right to you. Every one of our 3,500 check designs is stylish and of high quality. Your SunTrust Bank check designs are highly secure with the latest check security features. Ready to choose the perfect check design?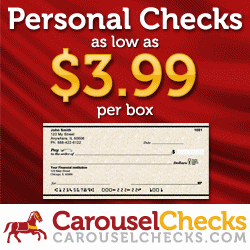 High Quality, Highly Secure and Stylish Check Designs
No matter if you are looking for personal or business check designs, you are at the right place. You can find all of our exciting personal check designs on the Check Designs page. If it's a business check design, then you will want to see our professional check designs in the business checks category. For personal check designs, you may like our check designs with animals or the land and sea check designs. If you are a sports buff, check our impressive collection of sports check designs. Personal or business, you may need some accessories!
Tip: Save with Coupons & Specials when ordering your check designs.
Value Priced Personal Checks