Do you have a business or personal checking account? You can order both business check designs and personal check designs for your TD Bank checking account. With our great collection of over 3,500 check designs, you are surely to find the perfect check designs. Once the order is placed, we will promptly print and ship your new check designs to you. All of GetBankChecks check designs are high quality and highly secure, yet stylish.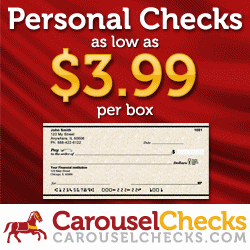 Tip: you can save money and still get high quality check designs with our Coupons & Specials
Personal and Business Check Designs for your TD Bank Checking Account.
If you want to get right down to business, you can check out our assortment of business check designs in our business checks category. If you are looking for personal check designs, you may like what others have purchased by viewing the most popular check designs. You can also browse through all of our categories on our Check Designs page. If you are into animals, head on over and check out the check designs with animals or the land and sea check designs if you like beautiful scenic shots. Don't forget the accessories!
Value Priced Personal Checks