If you are low on Umpqua Bank checks, you can easily order them here at Get Bank Checks. Ordering your Umpqua Bank checks is as easy as following a few simple steps. The best part is that you no longer have to make use of the old, boring, and regular checks that you are currently using, as we here at Get Bank Checks offer a lot of highly secure and stylish bank check designs. If you order Umpqua Bank checks from us, you can expect to receive them in a matter of a few days once you have placed your order.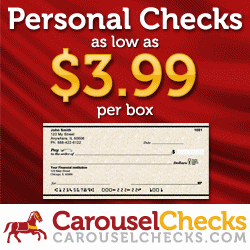 When you
order Umpqua Bank checks
, all you need to do is to provide us with some important information such as your name, your address, your account number, and your routing number. After completing your order, we guarantee that we will deliver your new highly secure Umpqua Bank checks to your preferred address.
Choose from a Huge Collection of Highly Secure Bank Check Designs
If you do not have any idea of which design to use in your Umpqua Bank checks, visit our "Bank Check Designs" webpage. Here, you will find a wide range of categories containing the most popular designs. If you are an animal lover, you will greatly enjoy browsing through the Dog check designs, the Cat check designs, and the Horse check designs. You will also find other great top quality check designs in our Seasonal, Scenic, Sports, and Patterns check designs. If you want something more personal, you can also provide us with a copy of a photo that you want to use when you order Umpqua Bank checks from us.
Value Priced Personal Checks