Are you looking for stylish check designs for your UBS Bank account? GetBankChecks has over 3,500 stylish check designs. Rest assure the each check design for your UBS Bank account is highly secure and high quality. Bank customers like yourself are no longer stuck with the very limited check designs that banks offer. Once you select and order the check design that best suites you, we will quickly process, print and mail your new check design right to you. It's time for the best part and the reason you are here. Let's browse through some wonderful check designs!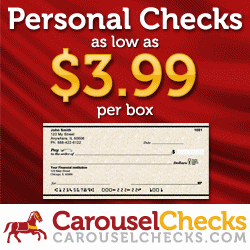 Tip: Our Coupons & Specials will save you even more money without losing any of the quality!
3,500 Amazing Check Designs that you will Love
You can take a look at our collection of categories on our Check Designs page. Just some of the popular categories is the cute check designs with dogs and the always purr-fect check designs with cats. Also popular is the horses check design. For a view that will take your breath away, you can browse through the land and sea check designs. For the sports buffs, we also have an assortment of sports teams. Check out our accessories page too!
Value Priced Personal Checks