Save money and time. Order your ING Direct check designs here! You won't lose any features that you expect from checks. All of the check designs that we offer are highly secure and top quality. You have over 3,500 check designs to choose from for your ING Direct account. Once your order is placed, your new check designs will be printed and mailed within a few days. It doesn't matter what hobby you have or even what your taste is. You will find the perfect check design here!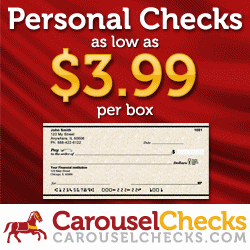 Tip: Search through our vast collection of check designs on our "Coupons & Specials" page.
Stylish and Highly Secure Check Designs
Our "Bank Check Designs" page will list all of our exciting categories. If you are in a hurry, you may find the perfect design from one of the most popular check designs. Do you like animals? If the answer is yes, you will love our check designs with animals. Football, baseball and basketball fans always seem to find what they are looking for in our sports themed check designs category. If you enjoy traveling or just love the perfect ocean view, you might like our land and sea check designs category. Do you have a photo that you would like to use on a personalized check design? You can do just that by customizing a personalized check design using your own photo! Don't forget to order accessories with your new checks!
Value Priced Personal Checks