Order HSBC Bank Checks
Personal check security features are extremely important. GetBankChecks knows this. That is why we offer over 3,500 highly secure and stylish check designs. Rest assure that the HSBC Bank check designs are top quality and have the latest check security features. Ordering your new check design is easy. In fact, the difficult part is choosing from the many stylish check designs that will tempt you. It doesn't matter what your taste, hobby or interest is, you will surely find a great check design for your HSBC Bank account.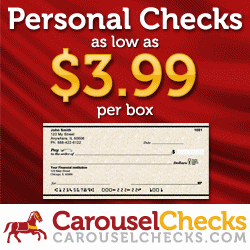 Tip: Try our "Coupons & Specials" to save your hard earned money and still get the highly secure check design that interests you.
If you aren't sure where to start, you will find all of our excited categories on the "Bank Check Designs" page. GetBankChecks has several categories including sports check designs, adorable check designs with cats and check designs with dogs, which is nothing to bark at because every check design will warm your heart. Our beautiful Land and Sea check designs will take your breath away! No matter what kind of sport you are a fan of, you are surely to find the perfect check design in our great collection of sports teams.
Value Priced Personal Checks