With more than 165 years of service to the banking community, the Firstmerit Bank, National Association represents one of the oldest banking institutions in the country.  Through all these years of financial services it has grown, continued to be respected, and sought after because of its core values and competence.  The Firstmerit Bank, National Association is focused on the delivery of personalized solutions that will help its depositors reach their financial goals.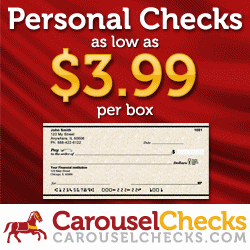 Such personalized solutions should be accompanied by personalized products like Get Bank Checks.  With over 3,500 different bank
check designs
to choose from, and an option to use your
own images
it represents the epitome of personalization.  When you
Order FirstMerit Bank Checks
you not only get wide array of design choices, but also highly secure, high quality, and stylish personalized bank checks.
The amount of personalization that can be provided by Get Bank Checks can extend to both personal and business checking accounts.  This means that regardless how meticulous or extensive your needs are, you can Order FirstMerit Bank Checks that can satisfy your requirements.  Aside from this, checking account holders also have the option to avail of different accessories with their FirstMerit Bank Checks.
By using accessories, the level of personalization is taken a step higher with the use of deposit slips, address labels, address stamps, and envelopes among others.  Checking account holders need not worry about the cost because the Coupons and Specials category will provide all the discounts they need.  Get Bank Checks can provide all the personalization requirements of Firstmerit Bank, National Association checking account holders.
Value Priced Personal Checks