The initial role of OneWest Bank, FSB was as a federal savings bank after it successfully acquired some assets and limited liabilities of IndyMac Federal Bank, FSB on March 19, 2009.  From that time on it has grown to be the largest banking facility based in Southern California.  It caters to the financial needs of consumers and businesses regardless of the size of their transactions.  The OneWest Bank, FSB if focused on the delivery of banking services using a relationship-based and personalized approach.
When checking account holders of OneWest Bank, FSB Order OneWest Bank Checks, they are actually extending the level of personalization provided by their bank.  There is no doubt that only an industry leader like Get Bank Checks can deliver the type of personalization required to adequately complement the financial services of their banks.  The unparalleled level of personalization is based on the more than 3,500 bank checks designs that customers can choose from.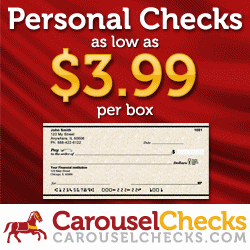 Moreover, Get Bank Checks also introduces the
Photo Checks
feature, which allows checking account holders to make use of their own photographs or images in their bank checks.  It does not matter whether the requirement is for personal or business banking, customers can
Order OneWest Bank Checks
appropriate for their needs.  In fact, Get Bank Checks has an equally huge collection of
business bank checks
.
Regardless whether it is personal or business banking, all checking account holders are looking for additional savings and value for money.  This is precisely what Get Bank Checks delivers with its Coupons and Specials category.  Customers of OneWest Bank, FSB would benefit if they Order OneWest Bank Checks today.
Value Priced Personal Checks