Choosing and ordering personal checks online for your Bank Of The West checking account couldn't be easier. Besides the basic information, all you need is your Bank Of The West routing and checking account number. Next comes the fun part of choosing the check design that interests you. On our "Bank Check Designs" page, you can browse through several categories of check designs. Once you place your order, rest assure that your personal check design order will be printed and mailed within a matter of days. Ready to choose your check design? Okay, let's get started!
Tip: To save even more money when ordering check designs, check out our "Coupons & Specials" page.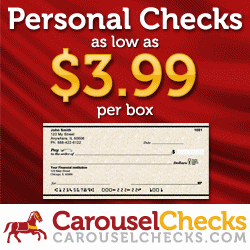 What Top Quality Check Design is Right for You?
Browse the most popular personal check designs in our gallery. Then head over to our "Bank Check Designs" page where you can choose a category or browse through them all! No matter if you are an animal person, or into landscapes or the ocean, you will surely find the right check design for you. We even have a sports check design page so you can proudly show your support for your favorite team. What a more personalized check design? How about adding one of your photos to the check?
Value Priced Personal Checks