Order CitiBank Check Designs
Save money and also save time when ordering you check design through us! You can now order your highly secure CitiBank check design with a few simple steps. Of course the fun step is choosing your new personal check design for your CitiBank account. Once your order is placed, we will print your quality check design and have them shipped right to you. Okay, let's have some fun and check out our extensive collection of check designs!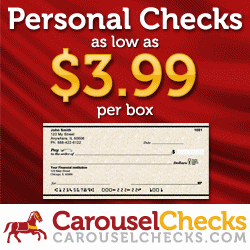 Search for your Highly Secure Check Design
The most popular check designs is of course the most popular place to start your search. Don't worry and rest assure that if you don't see anything there, you can search through our "Bank Check Designs" page to see all of the great categories. Are you a horse lover? Our check designs with horses may be just what you are looking for. We also have check designs with dogs and check designs with cats! If you want a check design that no one else has, try personalizing your check design using your own photo! We even have a sports check design category for all of you sport fans.
Value Priced Personal Checks