Functioning as a subsidiary of People's United Financial, Inc., the People's United Bank, benefits from the diversified financial services of the company.  Founded in 1842, the People's United Bank represents the largest independent bank that is headquartered in New England.  The focus is mostly on commercial and retail banking including wealth management services within Massachusetts, New York, Connecticut, New Hampshire, Maine, and Vermont.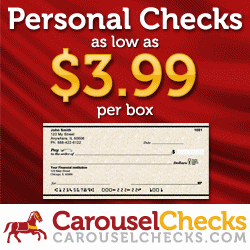 Get Bank Checks can be applied to the Premier Advantage Checking, Advantage Checking, Interest Plus Checking, Plus Checking, and Student Plus Checking packages of People's United Bank which are all covered by the Overdraft Protection Services program.  This means that checking account holders of any of these packages can
Order People's United Bank Checks
, provided that they have their checking account number and routing number available.
Many people who believe that personalized bank checks can be very costly are not very much aware of the Coupons and Specials category of Get Bank Checks.  Basically, when you Order People's United Bank Checks, you can get additional discounts from the already affordable cost of personalized bank checks.  The Coupons and Specials category is regularly updated to apply to the various Get Bank Checks products and accessories.
Majority of checking account holders understand the value of accessories when it comes to personalized bank checks.  Essentially, having personalized deposit slips, envelopes, address stamps, and address labels to go with your People's United Bank Checks extends its functionality.  The beauty is that when you Order People's United Bank Checks together with the accessories, there is very little increase in the cost for People's United Bank depositors.
Value Priced Personal Checks