When First National Bank of Omaha opened its doors in 1857, it was a local bank that provided banking services exclusively in Omaha and the surrounding areas.
Today, as a subsidiary of the First National of Nebraska, it has become one of the largest privately owned banking institutions in the United States.  It also possesses some of the most innovative financial products in the industry like the Customer First Regular Checking, Customer First Classic Checking, Customer First Complete Checking, Customer First Premier Checking, and Customer First Student Checking among others.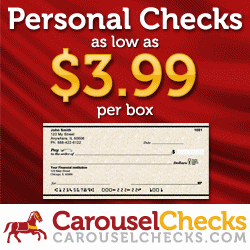 These innovative products require an equally inventive way of using bank checks.  These represent outstanding checking account products in the banking industry.  Therefore, checking account holders also need a way to standout themselves.  This can be done when they
Order First National Bank of Omaha Checks
with a personalized design.  Get Bank Checks feature over 3,500 high quality images that have been exquisitely crafted and classified into various themes like
sports
,
dogs
, and
scenery
among
others
.
Checking account holders of First National Bank of Omaha also do not have to worry about security with their bank checks.  Get Bank Checks understands this importance and implements its proprietary technology for the protection and peace of mind of customers that Order First National Bank of Omaha Checks.
In fact, if checking account holders want to institute an additional level of security, they should take advantage of the Photo Checks feature that allows them to use their own designated images.  First National Bank of Omaha depositors must take advantage of the Get Bank Checks products.
Value Priced Personal Checks