Bank of America Checks Order Online for Free
Ordering new Bank of America checks online is easy and free! Choose from 1600 different check designs and styles. You are at the right place to browse then order your favorite personal check design. Whether you are ordering new bank of america checks or reordering more checks there are plenty of choices. The information that is needed, is your Bank of America account and routing number. Within days we will have your new personal Bank of America checks shipped and delivered to you. Let the fun begin. It's time to choose your favorite check design!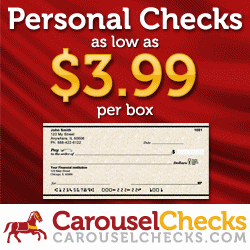 Bank of America Check Design Options
First, don't worry if none of the designs catch your eye. All you need to do is check out the "Bank Check Designs" page. On the Check Designs page, you can browse through all of our categories. Are you into sports? Maybe the Sports Check Design page will interest you. There, you can choose between the NFL check designs, NBA checks designs, MLB check designs or others. If landscapes interest you, you may like the Land and Sea check designs page. No matter what your taste is, we're sure you will find the perfect personal check design while browsing our categories.
Tip: We also offer Bank of America address labels, register logs, and wallets
Value Priced Personal Checks
How To Order Bank of America Checks?