Are you shopping for a personal check design for your U.S. Bank account? You're at the right place! GetBankChecks has over 3,500 high quality, highly secure and stylish check designs. U.S. Bank customers like yourself, can easily browse through of collection of check designs and place an order. We will process your order, print and ship your new check design within a few days. It's time to begin your search for the perfect check design!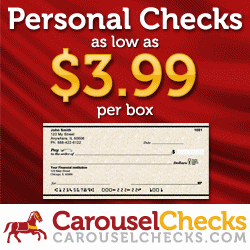 Tip: Save using our Coupons & Specials on check designs!
Over 3,500 Beautiful Check Designs to Choose from
You may like one of the most popular check designs that others have chosen. If none of those interest you, try browsing through our extensive collection of Check Designs. Many people have fallen in love with our adorable check designs with animals. Cat check designs and dog check designs are very popular. NFL, basketballs and baseball fans seem to really like the collection of sports check designs. While you are ordering, don't forget about the accessories.
Value Priced Personal Checks