Order Wachovia Bank Checks
Are you a Wachovia Bank customer looking for new check designs? You're at the place! GetBankChecks has over 3,500 highly secure and stylish check designs. Each check is high quality and very attractive. With some basic information, you can easily order your new Wachovia Bank check designs. Once your order is received, we will promptly print and ship your check designs to you. Are you ready to choose a beautiful check design?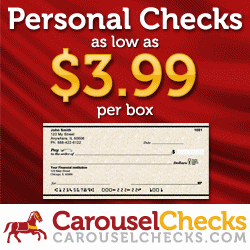 Tip: You can still receive high quality, highly secure check designs when using our Coupons & Specials
Browse our 3,500 Different Wachovia Check Designs
Our most popular check designs is always a favorite place to start. You can also browse through all of our exciting categories on our Check Designs page. For example, many people like the adorable check designs with cats. Dog lovers really enjoy browsing through our check designs with dogs and of course our check designs with horses is also popular. Are you a football, basketball or baseball fan? You might find the perfect check design in our sports teams page. While you are shopping, don't forget about the accessories.
Value Priced Personal Checks