Ever wonder if there is any way that you can change how your Huntington National Bank checks look like? Well, if this question has been bothering you for a long time now, we here at Get Bank Checks will provide you with the answer! You can order Huntington National Bank checks from us featuring the latest and the most stylish designs that you can think of. You also do not have to worry about the safety features of the bank checks you will order from us, as Get Bank Checks is a highly trusted website by all banks and financial institutions.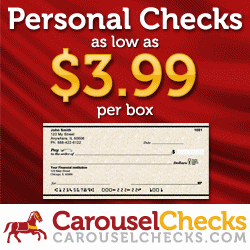 The process of ordering your Huntington National Bank checks is very easy. All you have to do is to provide us with the necessary information such as your Huntington National Bank account and routing number. Once you have completed your order, just give us a few days to deliver your stylish and hip Huntington National Bank checks at your preferred address.
Choose from a Multitude of High Security Check Designs
If you order Huntington National Bank checks from us, you can choose from over 3,500 high security check designs! That is more than enough to last you for a lifetime. To check out the designs that we offer, just click on the "Bank Check Designs" link and find the one that you like best. You can choose from the Dogs category, the Beach category, the Flowers category, the Seasonal category, the Scenic category, the Sports category, or the Patterns category. If you want something more personal, you can also provide us with a copy of the photo you want to feature on your Huntington national Bank checks.
Value Priced Personal Checks