You can order personal check designs or business check designs for your Regions Bank account right here! Each of our 3,500 check designs are highly secure and stylish. With a few basic steps, you can order your new check designs today. GetBankChecks will print and mail out your new personal check design or business check design within a few days. Of course, the funnest step in placing an order is browsing through all of our high quality check designs!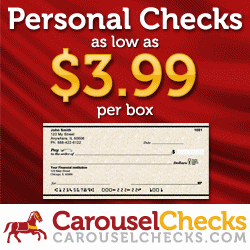 High Quality Personal Check Designs and Business Check Designs
The most popular check designs is a great place to start. You can see all of our exciting check design categories on our Check Designs page. Some of the popular check design categories include the animals check designs, the sports check designs and the land and sea check designs. Are you looking for business checks? You can head on over to our business checks category. Remember, no order is complete without accessories!
Tip: Get Highly Secure, High Quality and Stylish Check Designs on Our Coupons & Specials page!
Value Priced Personal Checks