Looking for secure, high quality and stylish check designs for your USAA Bank account? Good news! GetBankChecks has 3,500 stylish and highly secure check designs that are nothing short of high quality. You can easily order check designs for your USAA Bank account with some basic information. Once your order is processed, we will print and mail out your new check designs within a few days. Are you ready to choose the perfect check design?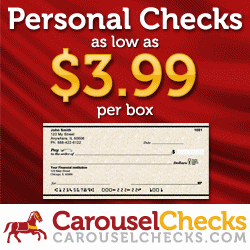 Over 3,500 Stylish and Highly Secure Check Designs
You may agree with others and find a great check design with most popular check designs section. If you don't, browse through our Check Designs page to see all of the exciting categories that we offer. For instance, the check designs with horses, check designs with cats and the check designs with dogs are all very popular check designs. For the sports fan, we even have a great collection of sports teams. Check out our accessories page too!
Tip: With our money saving Coupons & Specials you can still get high quality and secure check designs.
Value Priced Personal Checks