The East West Bank is one of the few full service commercial banking institutions that have a presence in the United States and within Greater China.  It serves the financial needs of businesses and consumers in order to transform opportunities into prosperity and growth.  One of the most valuable products East West Bank has is the East West Value Checking, which features low opening balance, unlimited check writing privilege without per check charges, and free online banking and bill payment facility.
It is easy to see that East West Bank recognizes through this product how valuable every dollar is for their depositors.  This is the same view shared by Get Bank Checks, which is why they regularly update their Coupons and Specials category to provide various discount offers.  These offers go a long way when customers Order East West Bank Checks that has a personal design or one of the more than 3,500 pre-designed images Get Bank Checks offers.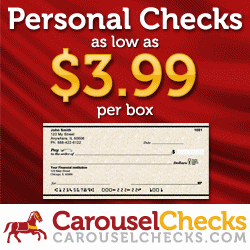 Moreover, checking account holders of East West Bank should realize that they can
Order East West Bank Checks
regardless whether they have a personal or business checking account.  To further increase the value for money and the appearance of their bank checks, Get Bank Checks offer wide array of
accessories
to match the bank check design that was chosen.  These accessories can range from address labels to envelopes.
There is no doubt that there is an inherent value in having personalized bank check designs.  East West Bank checking account holders can now have this when they Order East West Bank Checks.
Value Priced Personal Checks