Order CapitalOne Check Designs
Are you looking for inexpensive, yet secure CapitalOne Bank check designs? You've come to the right place! You can browse through all of the personal check designs, then choose the one you like best. All that is needed is your CapitalOne Bank account and routing number. In less that a week, we have your new high security, stylish check design printed and shipped. What are you waiting for? Let's pick a check design!
Tip: What to save some money without losing any security features? Check out our "Coupons & Specials"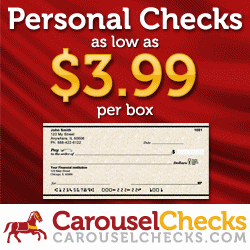 Choose a Secure CapitalOne Check Design
Let's start by browsing the popular check designs in the gallery. If you don't see any check designs that interest you, check out the "Bank Check Designs" page to see all of the categories. Looking for a unique check design? How about placing one of your own photos on your check. You can also choose from animal check designs including a cats theme, dogs theme, horses theme and more. Some other categories include sports check designs, land and sea check designs and more.
Value Priced Personal Checks