The Citizens Bank of Pennsylvania is one of the oldest banking institutions having started in 1828 by the Citizens Financial Group under the name High Street Bank in Providence, Rhode Island.  From this beginning it is now a commercial bank holding company with assets valued at $132 billion.  It caters to its varied depositors through its 1,500 branches that span 12 states complemented by commercial and non-branch retail offices in approximately 40 states.
The checking account holders of Citizens Bank of Pennsylvania can benefit from the Coupons and Specials of Get Bank Checks, which can be used when they Order Citizen Bank of Pennsylvania Checks and accessories.  This money saving offer provides exceptional value for checking account holders not only through its affordable cost, but also with the high quality standard, design, and security features of the bank checks.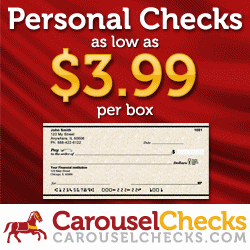 It is important to note that the
Coupons and Specials
offered by Get Bank Checks regularly change, which is why customers must periodically look into them not only when they
Order Citizens Bank of Pennsylvania Checks
, but every time they visit the website.  The main reason is that every offer is specially designed to deliver the utmost savings in money and make every checking account truly functional for the holder.
For the more meticulous checking account holder who cannot be satisfied by the various bank check designs offered by Get Bank Checks, they can actually make use of the Photo Checks option to make a personalized design.  This will truly personalize your Citizens Bank of Pennsylvania checking account.
Value Priced Personal Checks