Save time and money. Order Amegy Bank checks here.  Choose from a variety of high-quality personal check designs that Amegy Bank doesn't offer. Simply fill out the corresponding online form with your Amegy Bank information, such as your bank account and routing numbers, and wait for the checks to be mailed straight to your doorstep. Before that, take the time to pick out a suitable Amegy Bank check design by browsing over 3,500 different designs located on our check designs page, or a customized one using your own photos.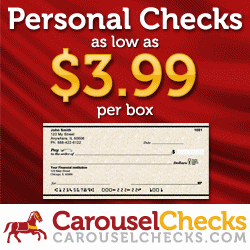 If you would like other kinds of designs besides the Amegy logo and related material, look into our many other check designs. The ability to customize your checks will say a lot about you to the person receiving it; so pick one that will represent you best. It may leave a favorable impression on the receiver, and may even encourage him or her to do business with you again.
Tip: Save $$$ on your new Sate Farm Bank check designs with our Coupons & Specials
Amegy Bank has over twenty years of experience in the banking sector. Since it's inception, it has grown into one of the largest chain of banks in all of Texas, providing a wide range of banking services to the citizens of the state. Not only does Amegy provide financial services for individuals and families, but they also offer banking services to small businesses, retail outlets, and mortgage services.
It's time to pick the design and order Amegy Bank checks. Whether it's a check design with flowers or beach check designs, you are sure to find the perfect Amegy Bank Check design that matches your taste. Also, don't forget about the checking accessories.
Value Priced Personal Checks